Our Story
Brothers Johnson 1929 Hat Co. was established in 2018 in loving memory of Dr. William Mylious Johnson Jr., a man who wore many hats in fashion, faith and fatherhood. His stylish flare was birthed out of the heart of Harlem, New York, New York where he went from lightweight boxing champion to a notable preacher of the gospel of Jesus Christ.
The crown of his accomplishments were his two sons, renowned musician William Mylious Johnson III and accomplished pastor and community organizer Ashley J. Johnson. With the love and support of his wife Dr. Celeste Ashe Johnson, he raised his sons to uphold a heritage of strength, loyalty and distinction. 
Brothers Johnson 1929 Hat Co. commemorates the progressive character and class of individuals who like Dr. William M. Johnson wear many hats and live lives of distinction.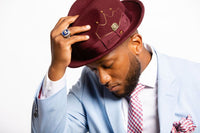 What's Your Distinction?