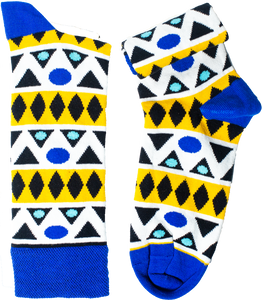 Premium designer cotton socks sent your way from Ghana.
"Fixe" (pronounced "Feesh") is an Angolan Portuguese slang meaning "nice", "cool", or "good". Originally meaning "fixed" and intended for objects, it's used to describe people who are cool and outgoing.
This design was inspired by traditional Angolan Samakaka cloth designs.
The socks are 90% Cotton, 8% Polyamide, and 2% Elastan.